How does the OSMO Patch work?
We are very often asked the question… 'Exactly how does the OSMO Patch work?'
Well this is a great question! It is so pleasing for us to see how many people are now taking such an active approach to better understanding their treatment options in order to maximise their health outcome.
To best answer this question we have produced this short easy to follow 4-5 min video at the request of many of our customers. We hope that this video is helpful in allowing you to better understand the biological processes which allow the OSMO Patches to naturally remove fluid, reduce swelling and alleviate the associated pain.
A Visual Guide
A visual guide on how the OSMO Patch works.
Step 1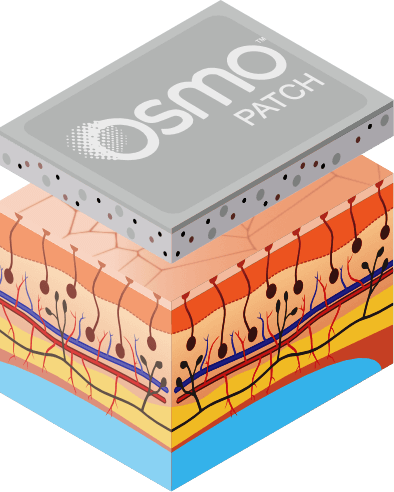 Adhere the patch/pad directly over the targeted area just before going to bed.
Patch/pad should optimally be worn for approximately 6-8 Hrs.
Adhere the patch/pad directly over the targeted area just before going to bed.
Patch/pad should optimally be worn for approximately 6-8 Hrs.
Step 2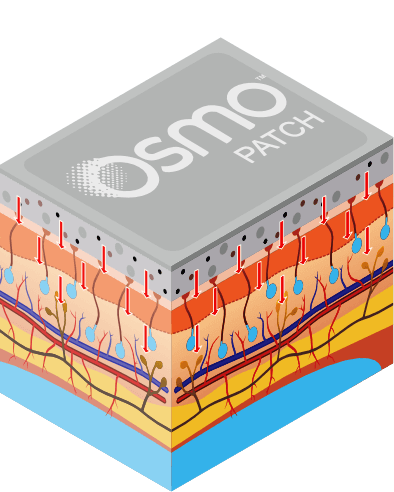 Shortly after the patch/pad is adhered to the skin, they will begin to emit far infrared heat.
Far infrared heat moves as small energy waves, easily penetrates the skin directly under the region where the patch/pad is applied.
Underlaying receptors of the sympathetic nervous system are then activated throughout the night until the the OSMO Patch is Removed.
Step 3
The sympathetic nervous system then directs the body to being cooling the area by moving fluid to the surface of the skin.
As the fluid reaches the surface of the skin it is quickly whisked away and absorbed into the patch/pad before any cooling process can begin.
Unabated, this heating and fluid removal process continues throughout the night until the OSMO Patch is removed.
Thanks to the natural power of osmosis underlying fluid is subsequently removed from the target area.
Step 4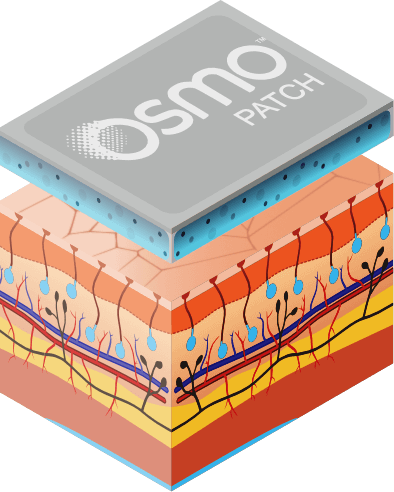 The patch/pad is then simply removed and discarded in the morning after a 6-8 hrs application period.
This process is then repeated each consecutive night until completed.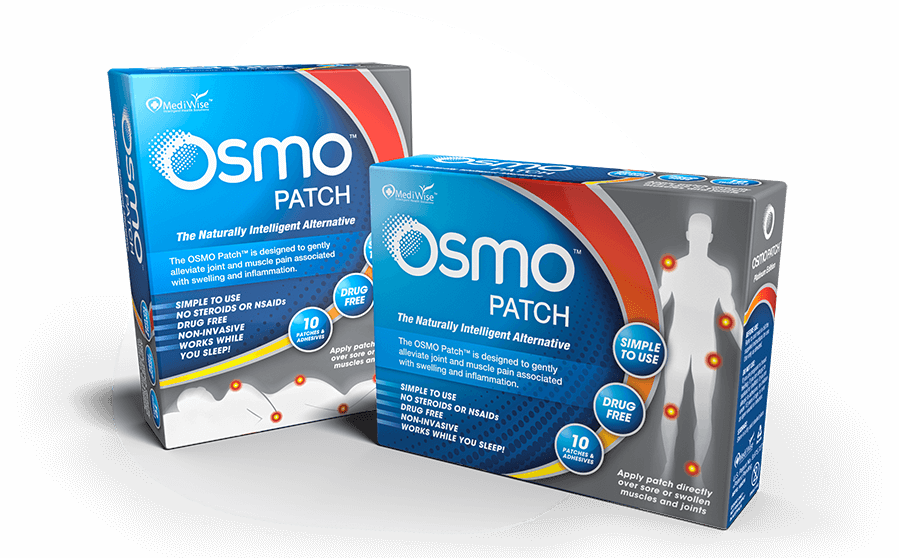 When losing your lifestyle is not an option!
OSMO patch is used by thousands of people around the world to reduce inflammation and associated pain due to Bursitis, Baker's Cyst and many other joint related ailments… all from the comfort of their own home.
For less than the cost of a visit to a specialist, there is little to lose except for your pain!
After watching this video you may also like to read some of the many fantastic testimonials that people have sent to us. Many of these individuals are people just like yourself who were also looking for a non-invasive and natural alternative, making the choice to experience the OSMO Patch for themselves. Click here to read what they have to say!
Testimonials
Real accounts by real people. Hear what they have to say!
Baker's Cyst
Danniel Jacques has made the world a better place for those of us that end up with too much synovial fluid – thank you very much!!! I had my first Bakers Cyst about 10 years ago and unfortunately the left over patches are a bit past it to treat the one I developed Tuesday night […]

Shoulder problems
Dear Danniel, I've just ordered my second lot of patches and have noticed a vast improvement in my shoulder. I just wanted to let you know I think they are working and will continue to use them. Thank you and I will be telling people all about your website. Regards

Baker's cyst
I recently ordered the OSMO Patches – and have already felt the pain decrease on my baker's cyst.. Thank you.

Patricia N
Arizona, United States
Bursitis in the hip
Hello, As much as I dislike the fact of getting older (I am sure most can empathise); the 50's are very enjoyable. I have always been a very active person over the years, and when it comes to living a healthy lifestyle, lots of time at the gym, swimming 1000M most days, plenty of walking […]

Knee Baker's Cysts and Meniscus tears
I've had knee problems for 3 decades and have had 4 surgeries due to an ACL Tear and numerous Meniscus tears.  Due to these problems, I've had a chronic problem with a Baker's Cist in back of my knee.  I've been living with the Baker's Cyst for years and the swelling that this Cyst caused […]

William M
California, United States
Baker's cyst
Dear Toky, Thank you for the OSMO patches. I'm seeing a big reduction in the swelling and pain. Thanks.

Margery D
New York, United States
General Bursitis
Dear Toky I have used the 10 patches and I have felt significant improvement, albeit not a total cure at this point. But, the Radiologist did tell me my bursitis was as bad as the man who came off a motorbike and his is the worst case they have seen. Please note I have shared […]

Elbow Bursitis
Hi, Patches were amazing only needed 2 to get my very fluid swollen elbow to go significantly down. This was after 3 weeks of no other solution so VERY VERY HAPPY. Many thanks!

Gavin P
Langford Bristol, UK
View More Testimonials
Disclaimer